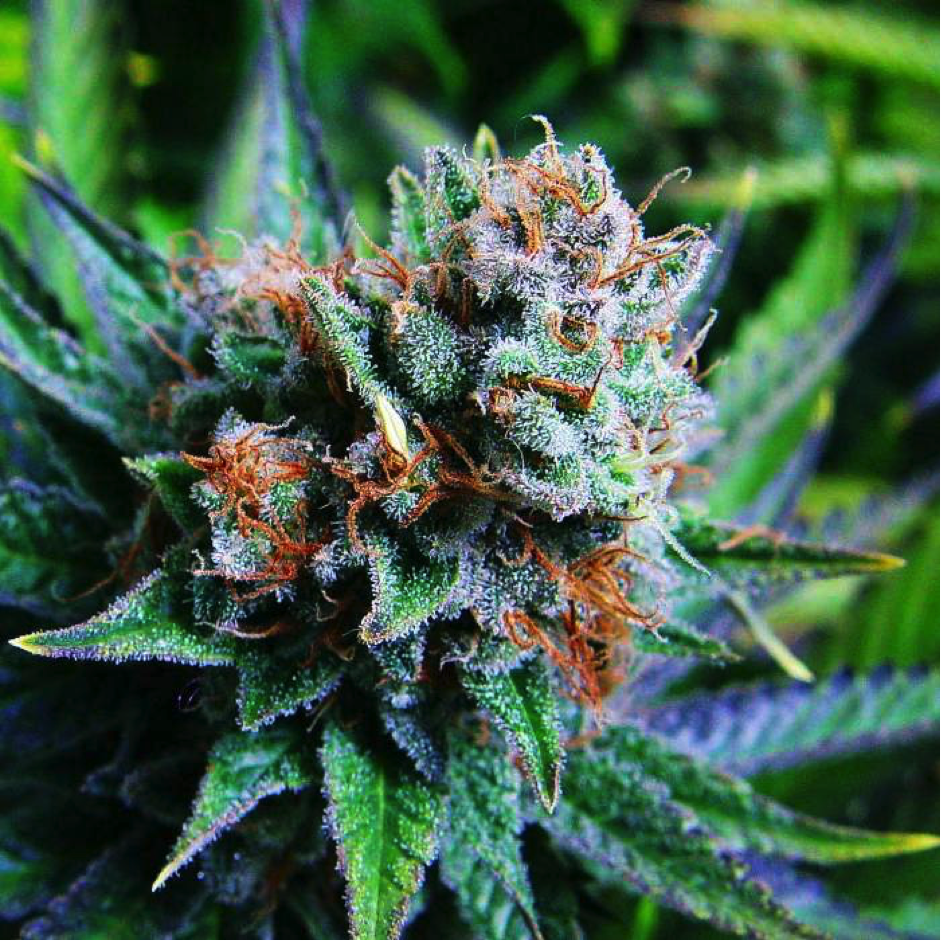 Cannabis strain popularity varies hugely from one US region to the next. Likewise, just because a cannabis strain is popular doesn't necessarily make it the 'best' on the market. Hence, we're being diplomatic with this one, focusing on the best-selling strains in the US right now.
Medical and recreational cannabis legalisation has transformed the face of American cannabis culture like never before. Contrary to the cries of critics, the legalisation of recreational pot hasn't led to anarchy and the end of days. In fact, it's actually led to a decrease in teen and adolescent cannabis use in some circles.
But what's also been spurred by liberal pot policy is a wave of experimentation and genetic engineering. Every day sees dozens of weird and wonderful new strains hit the market – some of which are more successful than others.
Still, there are certain household names in the US that continue to dominate the legal cannabis market. As things stand right now, the following six strains are outselling pretty much everything else by a significant margin:
Blue Dream Cannabis Strain
Right off the bat, Blue Dream is among the top 6 Best-Selling Cannabis Strains in the US Right Now. Perhaps the most successful and popular sativa hybrid of all time. It's also been the best-selling cannabis strain on the West Coast for several years now, earning a cult following among recreational and medicinal users alike.
Boasting a THC content that often exceeds 25%, Blue Dream combines the genetics of two equally iconic strains – Blueberry and Haze. Much of the appeal of Blue Dream lies in its characteristically sweet and fruity flavour profile, which leaves behind a luscious and lingering aftertaste. Despite being a sativa-heavy hybrid, Blue Dream is famed for bringing on the most beautifully balanced high. A controllable and enjoyable body stone, combined with a sense of relaxing euphoria and next to no sedation whatsoever.
Also known as Azure Haze, Blue Dream is a sativa-dominant strain that was birthed in the great state of California.
Given the name "dream" due to its mysterious background and origin, Blue Dream has no concrete written history and has forced its followers to believe it was conceptualized through a dream.
The strain we see today has been revived and perfected by breeder DJ Short.
This dreamy bud has a great deal of positive effects, including feelings of happiness, euphoria, relaxation, and creativity.
With a relatively high THC range averaging 16-20%, and less than 1% CBD, Blue Dream packs a punch.
The nugs are long and bushy, with deep blue hues, amber and blue hairs, and an abundance of milky white trichomes; it not only looks beautiful, but it also gets the job done!
Because of its parent, Blueberry, Blue Dream is known for its blueberry aroma; flavors of blueberry and sugar linger in the air and on your tongue long after the smoke has gone.
For some, Blue Dream is not only as good as it gets, but as good as things are likely to get for some time at least.
Northern Lights Cannabis Strains
A mainstay in Amsterdam though originally engineered in Washington State, Northern Lights being among the top 6 Best-Selling Cannabis Strains in the US Right Now, has been collecting awards and accolades since the early 90s. Even today, Northern Lights is renowned for being one of the purest indica strains anywhere in the world, combining the genetics of Afghani and Thai to create a hard-hitting monster. Hard-hitting, though with a comparatively modest THC content in the region of 17%.
The sensory experience begins long before the buds are burned, which emit a characteristic sweet and earthy fragrance when properly cured. Northern Lights delivers the kind of rich and satisfying smoke that's almost impossible to resist, leaving behind a dank and musky aroma that creeps into every corner of the home.
Along with an immediate mood boost, Northern Lights is renowned for instilling a sense of deep and long-lasting relaxation, with a tendency to incapacitate when overindulged. Northern Lights is therefore a stellar smoke for relaxing evenings, along with the treatment of mild to moderate muscle pains.
If your mind and body are overworked and long past due for some intense relaxation, Northern Lights is here to save the day. This strain is a great one to kick back with in the evening due to its sedating and uplifting effects. Northern Lights has also been said to produce an almost hallucinogenic and glimmering effect of one's surroundings, as if the borealis itself was brought straight to you. ( Buy the 6 Best-Selling Cannabis Strains in the US Right Now )
Chemdawg Cannabis Strains
There's much debate as to the exact origins of Chemdawg – several engineers having claimed it as their own. Still, what we do know about this iconic classic is that it combines the genetics of Nepalese and Thai, in order to produce a sublime sativa hybrid with an average THC content of approximately 18%.
Potent and skunky in the extreme. Chemdawg being the third among the top 6 Best-Selling Cannabis Strains in the US Right Now, has lent its genetics to some of the most celebrated and important strains in recent history. Two prime examples of which being OG Kush and Sour Diesel, which wouldn't exist without Chemdawg. The sativa-heavy genetics of Chemdawg are evident from the first hit, delivering a powerful cerebral uplift and a head-to-toe buzz.
As Chemdawg has little to no physiological effects, it's a renowned daytime smoke and one of the ultimate wake'n'bake strains. ( Buy the 6 Best-Selling Cannabis Strains in the US Right Now )
Green Crack Cannabis Strains
Once known as Cush – prior to Snoop Dogg renaming it in a now-official capacity – Green Crack is another exceptional strain for daytime use. With a THC concentration somewhere in the region of 17%, Green Crack combines the genetics of Super Skunk #1 and Purple Kush.
The sativa-dominance of Green Crack's genetics result in a powerful yet controllable boost of energy after just a few modest hits. It's not the most potent strain on the market, but Green Crack excels by instilling the kind of energy and mental focus that last, last and last some more. Hence, the perfect choice for an afternoon pick-me-up, or the perfect start to a busy day.
Green Crack has a wonderfully fruity fragrance with just the right amount of skunk, creating a heavy yet smooth smoke when lit.
Although it's called Green Crack, there is nothing manmade about this natural and green bud. It will, however, leave you wanting more and more once you get a glimpse of the energetic and upbeat high it has to offer. This strain won't send you crashing, and has a nice comedown too. That being said, Green Crack is perfect for morning or daytime use when you need a little boost to get you through the day. ( Buy the 6 Best Cannabis Strains in the US Right Now )
OG Kush Cannabis Strains
Another huge seller in recreational and medical circles alike, OG Kush was created by combining the genetics of Hindu Kush and Chemdawg. A cannabis culture staple with more than 30 years' experience to its name, OG Kush has lent its genetics to any number of major commercial strains from North America's West Coast.
Score a decent batch of OG Kush and you'll be looking at approximately 22% THC, with the quintessential full-body stone of a quality indica. Along with unbridled relaxation at the end of the busy day, OG Kush is great for taking care of mild anxiety, depression and daily stress.
All you really need to know about OG Kush is that it was once labelled the 'best of all time' by none other than High Times.
OG Kush is an American marijuana classic, a Southern California original with some of the highest THC levels in the world. With a 25:75 sativa/indica ratio, this strain pulls no punches. Expect a hard, mixed high with intense euphoria followed by serious couch-lock. The plant's THC concentration can reach levels as high as 19-24%. That just 1 percentage point less than the current record-holder. The cerebral boost from OG Kush is ideal for depression, bipolar disorder, and anxiety, while the heavy body high can help with pain and nausea. ( Buy the 6 Best Cannabis Strains in the US Right Now )
OG Kush is also used to treat Alzheimer's disease. Dry mouth and eyes are the most common negative effects, though headaches and paranoia are also possible. This strain is a hybrid, probably a descendant of a female Chemdawg plant and a male Hindu Kush plant. OG Kush, which has given rise to countless West Coast strains, has an earthy, wood taste and a strong pine scent. It's most popular in California, the Pacific Northwest, and Colorado.
Girl Scout Cookies Cannabis Strains
Last but not least, Girl Scout Cookies is a true phenomenon that really needs no introduction. Engineered by combining OG Kush and Durban Poison, Girl Scout Cookies was an immediate hit in its native San Francisco and subsequently took over the planet.
Named after the ever-famous cookies, this dessert-like strain holds true to its name and tastes just like the sweet and minty treats sold by Girl Scouts. It has won multiple awards for its delicious and tantalizing aroma, as well as its calming and soothing effects.
Girl Scout Cookies may owe much of its popularity to high-profile celebrity endorsement, but in its own right is a truly extraordinary piece of engineering. Sweet, skunky and satisfying, this indica-heavy hybrid often packs a THC content in the region of 25%. All of which adds up to an impossibly relaxing and enjoyable high, which somehow delivers the best of all worlds.
An ideal strain when you've time to kill and nothing better to do than enjoy every minute of it. Infact if you are looking to buy the 6 Best-Selling Cannabis Strains in the US Right Now then Contact us Now